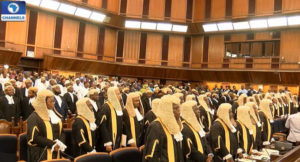 The National Judicial Council has commenced the probe of two chief judges and 13 other judges after various allegations were levelled against them.
Fifteen committees are investigating the allegations which were made in petitions sent to the NJC, a statement signed by the Council's Director of Information, Soji Oye, for the Secretary, said.
According to it, the NJC which is Chaired by the Chief Justice of the Federation, Justice Walter Onnoghen, set up the committees at its 83rd Meeting.
"Council took the decision after considering the reports of the two preliminary complaints assessment committees, on 46 petitions written against judicial officers in the federal and state judiciaries," the statement said.
The statement did not, however, disclose the name of the judges being investigated neither did it contain details of the allegation against them.
Out of the petitions, 31 were dismissed. Of the 31, 29 petitions were found to be unmeritorious, while the remaining two, written against Justice John Tsoho of the Federal High Court and Justice O. O. Akeredolu who is the Acting Chief Judge of Ondo State, were withdrawn by the petitioners.
Al-Sagr National Insurance Company who wrote against Justice Tsoho withdrew his petition since the judge had delivered the ruling in his case, while Chief Raheem Badmus who wrote against Justice Akeredolu also voluntarily withdrew his petition for personal reasons.
"Council treated the two petitions as withdrawn since it did not find anything in them sufficiently serious for further consideration as stipulated in Regulation 9 (1) of the Judicial Discipline Regulations," the NJC said.