The uncertainties surrounding Nigeria's socio-economic life in the last couple of weeks have left so many Nigerians (including myself) in shock as to whether we are progressing or retrogressing.
Another October 1 is here and it reminds me of my days in both Elementary and Secondary Schools. Those were the days you removed your white canvas and/or Cortina sandals from your "bottom box" and washed or polished in readiness for the Independence Celebration match past. It was a day every child of school age learned how to iron his/or her school uniforms, just to look good or outstanding at the parade ground. We all had to save for such a day. Parents made out time to go watch their kids at the field or at least gave out some coins for ice cream and popcorn. I remember these with nostalgia and I remember that all that came to mind then was "One Nigeria".
Today, we talk about October 1st, 2017 with mixed and very painful feeling of failure. Failure of governance over time, leading to near hopelessness. This year, parents are rather sounding notes of caution to their children not to step out, let alone visit any parade ground. It is so painful that rather than celebrate with pride the 57th anniversary of Nigeria's Independence from her Colonial Masters (Britain), we are celebrating the bitterness that led to the Genocide (Nigeria/Biafra war).
How can there truly be any celebration when Pythons are on the streets dancing? Nigeria has indeed made records as the only country where snakes not only dance, but do so in human habitats and possibly strangling and swallowing whoever dares to stare. How could the Python be dancing in the city when there are countless and more nutritious preys in Sambisa Forest? How can we celebrate near N400/USD when we still are an import dependent nation? How can we celebrate continued importation of refined petroleum products after decades of oil exploration? How can we celebrate the importation of palm oil from Malaysia, a country that collected their palm seeds from Nigeria, or should we be celebrating the sale of "Made in India" Garri when Nigeria is said to be the world's largest producer of Cassava? Can a country endowed with so much Natural Gas, Coal and Water Resources be actually celebrating her National day in darkness due to non-availability of electric power?
I am one man who against the belief and arguments of my friends and many intellectuals believed in a better Nigeria under a President Muhammadu Buhari. Even when most of my friends in politics belonged to PDP, I openly supported his campaign and encouraged anyone who listened to me to vote for him. My conviction was that Buhari is a disciplined incorruptible Army Officer who would bring about sanity in the polity without minding whose ox is gored. Today I am not sure I could sing the same song. It's rather been a case of "the more you look, the less you see". We have seen more division among Nigerians than ever witnessed since after the civil war.
We should have been celebrating 50 years of One Nigeria with pump and pageantry and 57 years of nationhood, but unfortunately we seem more divided than we were pre-civil war. Our streets are littered with dead bodies from Bombs and bullets of Boko Haram, Herdsmen and Pythons of both green and black colours. Trust among ethnic groups have completely collapsed – thanks to the political class.
The only celebration that will make me smile even from the sick bed is a united Nigerian Youths coming together to say NO and ENOUGH to the political class that brought these ruins to our society. It is now or never if we believe in larger and united Nigerian Dream. This is time to quit being arm-chair Apostles of one Nigeria. Let every Nigerian youth rise up for a real change in leadership. Let us identify and support the youth to take over the leadership of the country at all level come 2019. Join the CAMPAIGN AGAINST GDKS in NIGERIA and let's make a difference through non-violent revolution. Let's do this through active participation in both contest and voting. We must campaign vigorously through every medium at our disposal for voter awareness, so that only youths with proven integrity, spiced with just a few decent old hands in politics will take over the leadership of Nigeria come 2019. Our Fathers and Mothers now need to respect their age of Retirement and allow their children to bring about peace and unity in the land for a sustainable growth. It's time to let go of all old bitterness and rivalry if we must salvage the pride of Africa.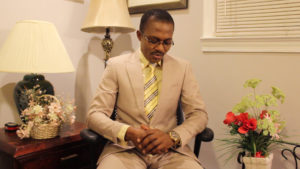 Martins E. Ogbu