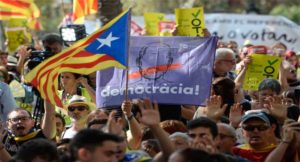 People hold Catalan pro-independence 'estelada' flags outside the high court in Barcelona on September 21, 2017. After a day-long protest that lasted well into the night, several thousand independence supporters gathered again in front of the high court in what influential separatist organisations said would be a "permanent mobilisation" until the officials are freed.
Josep LAGO / AFP
Barcelona will join a strike called across Catalonia on Tuesday in protest at a violent crackdown by police of an independence referendum called by pro-separatist politicians for the region on Sunday.
"FC Barcelona joins the countrywide strike called for by Table for Democracy and therefore the club will be closed tomorrow," Barca said in a statement on Monday.
"None of the professional teams or the youth teams at FC Barcelona will train tomorrow."