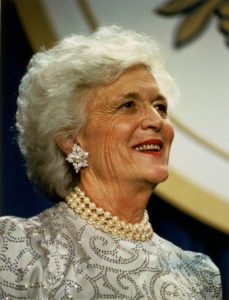 Barbara Bush (née Pierce) wife of 41st President of the United States George H. W. Bush, has died, aged 92. She served as First Lady of the United States from 1989 to 1993. Born June 8, 1925, she was married to her husband for 73 years before her passing, making their marriage the longest in the history of American modern Presidency.
She died at her Houston Texas home Tuesday surrounded by her family. She had suffered from congestive heart failure and Chronic Obstructive Pulmonary Disease (COPD).
The former First Lady had on Sunday declined medical treatment in the hospital and opted for home care. Recall that Barbara and George were both hospitalized in early 2017 for various health issues.
In a statement released shortly after the announcement of her passing, the White House says, "She will be long remembered for her strong devotion to country and family, both of which she served unfailingly well. The President and First Lady's thoughts and prayers are with the family and friends of Mrs. Bush."
She's survived by her husband, 5 children – including former (43rd) President George W. Bush and former Governor Jeb Bush, 17 grandchildren and 7 great-grandchildren.
BRM – U. S. Bureau