President Muhammadu Buhari Monday, became the first Black African Leader to be received at the White House by President Donald Trump, 15 months into his presidency.
In welcoming Buhari to White House in the Oval Office, Trump stated "It's an honour to be with President Buhari of Nigeria. We have many things that we do together as you know, especially on terrorism and terrorism related. We also have a number of trade deals that we are working on for military equipment, helicopters and the like. We have met before and we have developed great relationship. We look forward to our discussion today, especially as it relates to terrorism." He further stated; "also we've had problems with Christians who are being murdered and killed in Nigeria. We are going to be working on that problem and working on it very hard, because we can't allow that to happen".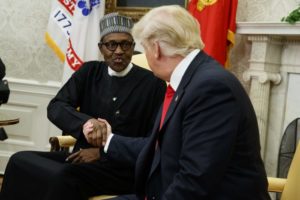 Responding, President Buhari thanked Trump for his invitation. "It's a great honour and I am very grateful for it" he said. He appreciated President Trump for the sale of military hardware for the fight against terrorism in Nigeria, and most importantly, the physical presence of the United States Military for the training of Nigeria's military personnel in the fight against terrorism.
Reacting to the herdsmen menace, President Buhari said "It's a very long historical thing, but in the states most concerned, the Nigerian headers never carried anything more than a stick and occasionally a machete to cut down a foliage and give it to their animals. These ones now are carrying AK47. So I don't think that people should underrate what happened in Libya. In 43 years of Gadhafi, people were recruited from the Sahel. They were taught nothing other than to shoot and kill. With demise of Gadhafi, they went to their regions and countries, and carried away with them the only experience they have in training, using weapons; and this is what is aggravating the situation. So we are doing our best to make sure that we have stopped the cross-boarder and so on". He noted that the actions of the United States in trying to see to the defeat of ISIS has helped Nigeria and the Region a lot, given the pledge of allegiance to the group by Boko Haram. "We are sure that we are stabilizing the security situation in Nigeria", he concluded.
BRM – U. S. Bureau