That Nigeria's air traffic has been reopened to international travelers is no longer news. What might perhaps be news is the experience of travelers on arrival.
As a first hand witness of the processes, credit must be given where and when due. Transiting through two countries in Europe and Africa, one can only but appreciate the efforts of the Nigeria government towards ensuring smooth and safe entry of international travelers into the country after about five months closure of its airspace due to the Covid-19 pandemic.
It is not true as reported by some self-acclaimed journalists that one needs to pay the sum of N50,000 and further deposit his/her international passport with the Immigration Service on arrival, you are rather required to undergo a covid-19 test, no later than four days before departure of your first (originating) flight. Upon testing negative, you must go online to the Nigeria International Travel Portal; https://nitp.ncdc.gov.ng/onboarding to fill in your travel information, upload your test result, and make a payment of $100 or N42,750 for a confirmation covid-19 test when you arrive Nigeria. You will therefore be e-mailed a confirmation, followed by a QR code for your admission at the port of entry. This is where there still seem to be an issue, as not everyone is issued a QR code. In some cases, also, a number of passengers had complained of their inability to make payments online. None of the two issues will prevent you from entering the country, as long as you have completed the pre-boarding procedures for travel to Nigeria.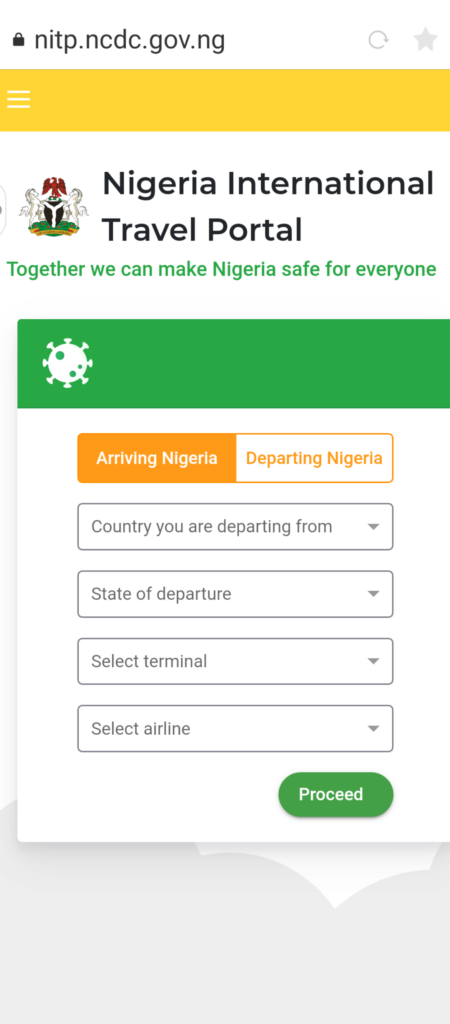 On arrival at the Nnamdi Azikiwe International Airport in Abuja, we were met by a team of medical technicians, pharmacists, and doctors who screened, and reviewed our documents (printed or electronic). If satisfied, you're given a pass to the immigration service desk for admission into the country. You are therefore required to self-quarantine for seven days, and then proceed for another test at any of the designated labs to confirm your status before you are now permitted to mingle with the society.
For those who may encounter issues with the QR code, the Federal Government has relaxed the insistence on such codes, provided you are able to show proof of covid-19 test in country of originating flight and confirmation of pre-boarding procedures.
In summary, no one's passport is seized or collected at the port of entry. However, you must present yourself for another test after seven days or face sanctions for international travels. You must test negative after seven days in the country before you are allowed in public places or to relate with the public.
In my opinion, while it is expected that issues arising from pre-boarding procedures are sorted as quickly as possible, the Nigeria government through the efforts of the Presidential Task Force on Covid-19 and NCDC, has done remarkably well with guidelines and processes towards safe admittance of international travelers into the country, to avert a spike in the rate of  SARS-Cov-2 (Coronavirus) infection in Africa's most populous and largest economy. It is also hoped that the confirmation test on arrival should be made free of charge, at least for Nigerian citizens. The $100 test fee is simply too high and a huge burden to returnees; most of whom are already traumatized, having been stranded overseas for several months with little or no income.
Nigerians and travelers wishing to come home or visit the country should feel relaxed and not be scared by the negative reports relating to traveler experiences on arrival.
Martins Ogbu – Abuja