The name Nigeria elicits instant or spontaneous reactions all over the world. Nigeria is perhaps the most popular country on the Continent of Africa aside being the most populous black nation on earth and Africa's largest Economy. Nigerians are perhaps the most traveled species of the black race and most diverse in culture, ethnicity and language. It is said that one out of every five Africans is Nigerian, but I dare say that one out of every three black Africans is a Nigerian.
The uniqueness of Nigeria in the global socio-political and economic space cannot be rivaled by any other country. Little wonder then, many nationals of other smaller African Countries claim "Nigerian" when they want to commit crimes abroad. A number of times, some Africans are deported to Nigeria only for authorities to discover they are nationals of other neighbouring countries, who may have traveled with fake Nigerian travel documents or may have claimed Nigerian in seeking asylum.
THE TRUE NIGERIAN
Growing up, it was common place to celebrate hardwork and diligence. You were told as a child that food is found only on the table of the diligent, a sandy or soiled hand guarantees oily lips (Aka aja na eweta, onu manu). You were branded "Unoka" (of the Things Fall Apart fame) or lazy, good for nothing if you're a male child who couldn't farm or engage in farming. In fact, the major reason for polygamy just like in many other parts of Africa was to have more children to enrich the family farming business/capabilities. The more and bigger the size of farm lands, the more hands required to turn the fields into cash and expand the Bans. Hence, a man's richness was determined by the number of wives/children he feeds and how well they all lived or looked.
People's spend were matched by their outputs or verifiable sources of income. You could not ride a motorcycle if it was obvious you can only afford a bicycle. If you lived a flamboyant life not matching your income, questions were asked, and in some cases such a person is avoided by the community.
A typical Nigerian is his/her brother/sister's keeper. What affects one affects entire community. He/she watches over the flocks of neighbor. Stealing is an atrocious act booed or condemned by the community.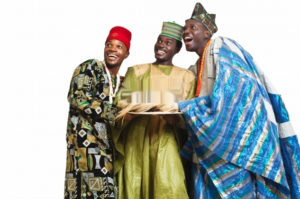 Glamorous always
In all; integrity, resilience and hardwork is what makes a true Nigerian. A true Nigerian finds opportunities where others consider barren. He may be a late starter, but when he moves, the speed is usually unprecedented. When he learns, he becomes the trainer of his trainer. He excels beyond expectations.
CORRUPT NIGERIANS?
It is said that in every twelve, there must a JUDAS. Expecting that over 180 million Nigerians will all be saints will sure amount to illusion. There are indeed some percentages of Nigerians who for want of a better word are rotten. A few individuals (largely, opinion makers), have over the years been able to influence a lot of other Nigerians who look up to them, and as a result infected the society with a virus so difficult to cure except with a resolution by the entire citizenry to say ENOUGH. For too long the polity has been invaded by this hydra headed monster in the appearance of human flesh, to erode the infrastructural and socio-economic development of the nation and her people.
This indeed has given the country a bad name in the international community, not necessarily because Nigeria is the most corrupt nation, but because of the level of impunity. The ones that are corrupt are rotten and they stink, while the majority who are decent and true Nigerians hardly get noticed, perhaps because they haven't got the resources to be so projected.
CONSPIRACY OF THE STIGMA
Ironically, the colonial masters who taught Nigerians the high-tech version of corruption in their anger of being outsmarted, in a game they believed they were masters, have left no stone unturned in making sure that every or majority of Nigerians are seen as corrupt or inept. This is why, where everyone else walks through with no obstacle; lots of huddles are placed for Nigerians to walk through. At boarders and posts where there's no searching for other nationals, a Nigerian is stripped naked in the name of security checks. Same applies even in schools overseas. There are different check standards for Nigerians, which are usually, tougher.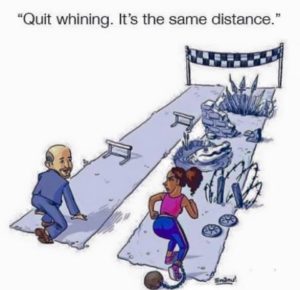 What women go through in the hands of men is exactly what Nigerians go through globally
Other African Countries are equally as guilty. The smartness of Nigerians in all spheres of life attracts instant jealousy from many other Africans who can hardly come to terms with such levels of articulateness and bravery. The outrage from this group of conspirators, are evident in xenophobic attacks on Nigerians in many parts of the Continent and impersonation of her citizens all over the world as earlier mentioned (recall the killing of the legendary Lucky Dube who was shot dead in South Africa by some hoodlums who confessed they mistook him for a Nigerian Businessman).
THE NIGERIAN FACTOR
The criminalization of Nigerian citizens across the globe is rooted largely in immigration and fraud.
Due to the corrupt practices of previous governments at different levels, Nigerian youths have over the years been encouraged to seek better life elsewhere but home. The reward system collapsed, dignity of labour disappeared, and richest individuals are the school drop outs, touts and other criminals. The "Monkey dey work, Baboon dey chop" syndrome became rife and saw people simply make phone calls and engage in unproductive social media chats in bed/living rooms with legs crossed on the table all day, only to breeze into the office for an hour or so (when they so decide to), retiring through a beer parlour or cozy hotel, with the prettiest of women, yet smiling massively to the Banks, traveling round the world in First Class cabins, at the expense of the very hardworking ones who set out by 5:00 am each day, retiring completely worn at 9:00 pm, yet barely able to feed.
Paying attention and being diligent in studies and academic activities, no longer guaranteed good grades in schools, but how much you're able to dole out or how wide your legs are able to spread for the Lecturers. Your abilities and mental/intellectual capabilities no longer mattered in appointments. Postings no longer depended on field of study or competence/experience, but on whom your Godfather/Mother is, or how much return in loots, you make to your bosses.
ECONOMIC MIGRATION AND EFFECTS
Above scenarios created a crisis, leading to mass exodus of both skilled and unskilled Nigerians, migrating to other parts of the world where hardwork counts and living standards measured in relation to efforts.
Of course, given the harsh environment created by this misrule, it becomes a lot easier for Nigerians to discover opportunities in other countries where citizens have not been pushed to the walls like they have.
It is not surprising therefore, when one hears about many Nigerians imprisoned abroad for crimes bothering on fraud, drug deals, and stealing or even immigration issues. This is because the socio-economic environment in Nigeria as created by the corrupt ruling class has twisted the definition of success and greatness, from integrity and intellectual achievements to the size of one's Bank Account(s), irrespective of the source. There's no credit or social welfare system that can guaranty a decent living for decent hardworking people. So it becomes very attractive to do whatever one can to make it BIG and bring it home, because Chieftaincy titles and even (in some cases), Honorary Degrees from Institutions of Higher Learning await you. The most brilliant and beautiful women are all yours once you cruise on state of the art machines and you're able to, as they say; "take care of them" (care lavishly for their financial wants, not just needs). These by no means define the true Nigerian, but simply an artificial creation of the corrupt ruling class who were less than 1% of the entire population but have spread their cancerous infliction, like wild fire among the young or youths who are supposed to be the future of the Country.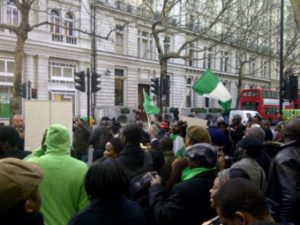 Some Nigerians protesting planned mass deportation by UK Government in London
Are Nigerians Criminals?
It was a remarkable outburst recently by Nigerians when news filtered in that their own President, Muhamadu Buhari had labeled Nigerians, "Criminals" while addressing the Media in London after an official engagement, where funds were raised for Syrian War victims by world leaders. Most Nigerians could not wait to listen, watch or grab the full text of his speech or response to the Media interview where the alleged comment was made. They went viral with various hash tags on the social media to attack and even abuse President Buhari for such "uncomplimentary remarks" against his own people. Even though it turned out he was quoted out of context by most people, the lesson here is that Nigerians don't take it lightly when labeled "criminals" or "corrupt". It means they reject criminality and corruption. The question here is; do today's Nigerians know what crime is and what is corrupt?
Because for too long, wrong things have been done, I dare say; I'm not sure most today's Nigerians (especially, age 01 – 40) know the difference between right and wrong. I leave this part for another day.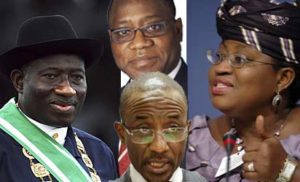 INTELLECTUALS
One unique attribute Nigerians have is God-given intellect which is very rare among other species all over the world.
How do you explain someone who leaves Nigeria where English language for instance is spoken in a particular manner or accent, sometimes with a blend of pidgin and other local languages, and finds self in England or the United States for studies where teaching is perhaps done in American English, yet he/she is not just able to blend but perform better than most natives who understand the language better?
So many foreign publications have alluded to the dexterity and ingenuity of Nigerians in their countries of residence. Nigeria today has the largest number of foreign students in the world.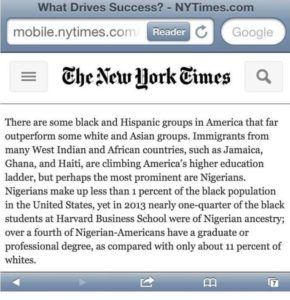 The story is the same all over the world
United States President Donald Trump as candidate was quoted as saying; he will deport Nigerians from his country if elected, not for crimes but for taking up the jobs meant for Americans. Why are they doing those jobs? Because they are not only qualified, but very competent.
Happy, Classy and Trendy
It is on record that Nigeria has the largest number of educated and skilled immigrants in the Unites States of America. Nigeria may also be in competition with India in the United Kingdom but I have no access to studies showing same.
LESSON FOR THE GOVERNMENT AND CALL TO ACTION
The government of Australia, United Kingdom, China, United States, Israel or any other developed country would never allow anything happen to their nationals anywhere in the world. They will deploy every available resources to save the life of one of their own, even if the person is a criminal. They will rescue you and make you face justice at home. They don't give up on any of their citizens.
Can this be said of the Nigerian government? My answer in the affirmative is NO. With all the intellectual endowment of Africa's largest economy, it cannot boast of a robust foreign policy which will give every Nigerian living abroad a sense of fulfillment and commitment to the country. It is common place for her citizens to toil and even slave to attain citizenship status of foreign countries. They are never satisfied or fulfilled with just permanent residency status, largely because they are continuously finding other countries much more comfortable than home. Because they know that those foreign countries when they become their citizens will go to war with Nigeria if anything happened to them in Nigeria, whereas Nigeria would most likely not even notice if anything happened to them either in Nigeria or foreign land.
Nigeria's foreign Missions and Embassies are most times very hostile to her citizens even in times of crisis. You'd approach an Embassy as a Nigerian visiting or residing in a foreign country for an official assistance, and you are directed to Foreign Affairs Ministry in Abuja. Your International Passport expires and it becomes cheaper returning to Nigeria than processing same in your country of domicile or nearest foreign mission (until recently when Immigration Service began periodic tours of some countries). Nigerian students abroad are hardly taken care of or encouraged to channel their challenges through the missions, because such missions don't have the capacity to intervene in their challenges.
It is therefore very important for Nigerian government to place premium of the lives of every individual called Nigerian. They must as a matter of urgency begin to appreciate the quantum of human capital abound in the nation. If well harnessed, the country will generate twenty times more revenue from intellectual exports than oil and gas. If the citizens are well appreciated, they become more patriotic and owe greater allegiance to their home country than host foreign countries. They will feel more comfortable repatriating funds for investment in Nigeria rather than plough back all their earnings to the host economies.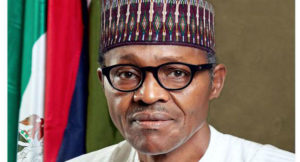 President Muhamadu Buhari
Nigeria must begin to appreciate the huge revenue losses when her nationals are trained abroad with lean resources from home and upon graduation, the knowledge she had paid for is used to improve foreign economies instead of bringing them home for internal development. A trader who goes to purchase wares must bring them back to his/her store so that sales can take place and profits made. But when you make your purchase with your capital and leave the wares for the manufacturer, you have simply enriched the manufacturer to come back empty and broke. You could eventually die.
That explains the level of carelessness on the part of Nigerian governments over the years.
Nigerians are indeed, intellectuals whose worth are yet to be harnessed by the State.
by Martins E. Ogbu