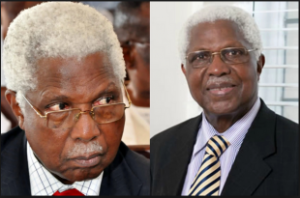 He died at about 10pm on Sunday 19/11/2017 according to a statement released by the family and signed by his younger brother H.R.H. Prof. Laz Ekwueme who equally is the traditional ruler of Okoh in Anambra State
DR ALEX IFEANYICHUKWU EKWUEME
Dr. Ekwueme is from Oko, Anambra State and was born on October 21, 1932. He is the first Vice-President of Nigeria (1979 – 1983).
He attended King's College, Lagos as an awardee of the Fulbright Scholarship in the United States America. He was the first Nigerians to receive this award. He obtained a Bachelors degree in Architecture and City Planning from University of Washington and a Masters degree in Urban Planning. He also holds degrees in sociology, history, philosophy from the University of London and law from Nigerian Law School.
Dr. Ekwueme ran a flourishing private Architectural firm – Ekwueme Associates, Architects and Town Planners. It was the first indigenous architectural firm in Nigeria with 16 offices spread all over Nigeria prior to his assumption of office as the executive Vice President of Nigeria. These offices and firm was wound up to assume this office.
He organised the group known as G34 which stood up against the dictatorship of General Sani Abacha during the era of military rule in Nigeria. This group later metamorphosed into the present day People's Democratic Party (PDP) and was subsequently appointed its founding Chairman and first Chairman of the party's Board of Trustees.
Chief Alex Ekwueme has always identified with his people and was the Head of Planning of the Biafran Airports Board in the defunct Republic of Biafra. By the time hostilities ended, he had two functional airports, viz the Uli and Uga Airports, while Mbaise, Ntigha Ngwa, Umuleri, and Arochukwu airport projects were at various stages of completion. He also established the Alex Ekwueme Foundation to promote his ideals, values and principles, offering scholarship to numerous students.
In his capacity as the Executive Vice President of Nigeria, he played a major role in facilitating the state pardon and eventual return from exile of the late Ezeigbo Gburugbu, Dim Chukwuemeka Odumegwu Ojukwu.
He is a proud recipient of Order of the Republic of Guinea and Nigeria, the second highest national honours in Nigeria of the Grand Commander of the Order of the Niger (GCON).
All hail His Excellency, Chief, Dr. Alex Ifeanyichukwu Ekwueme, GCON, the Ide of Oko, a rare icon, a true democrat, selfless leader, prolific philanthropist, accomplished statesmen, renowned public servant, patriot, man of peace, father figure of our current democratic dispensation and a great son of Igboland!